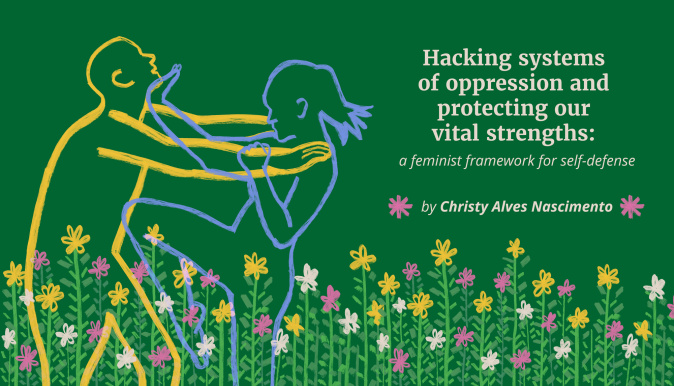 It was as a martial arts practitioner that I first learnt the dark irony of violence. It very rarely looks like an anonymous attacker or a dark alleyway. It also doesn't go around seeking a randomised, weak and vulnerable-looking target either. Rather, it shows up as an exercise of power by a mentor we respect, or by an intimate partner we love. It shows up in our schools, gym classes and news feeds - the very places supposedly there to empower us. It shows up in our private messaging platforms, our family gatherings and our bedrooms – the very places we seek safety through intimacy and belonging. And it happens to us. All of us. Not because we show weakness. But because we show strength.

The exploration of this topic started when I came to notice the prevalence of sexual violence against female martial arts athletes. We were people who had, in excess, the 'self-defense' techniques and capabilities necessary to prevent an attack, and yet still, fell victim. I have also seen among the most tech-savvy of my colleagues be attacked in their spaces of community online. Those who take up space in our workspaces through the loudness of their voices were the most likely silenced, and those with the deepest ancestral connection to their lands, denied ownership. While this research initially set out to explore responses to imminent violence against our physical and digital bodies, I quickly realised that the violence against us targets our bodies as a continuum across multiple dimensions of existence and expression. An effective framework for self-defense training must look beyond combat techniques and safety tools, but what could that look like?

The concepts discussed in this framework are drawn from the knowledge, experiences and desires of eight physical and digital self-defense practitioners and trainers from Sub-Saharan Africa, the Middle East, Southeast Asia, Latin America and the Pacific; a physical workshop with seven local trainers, communications practitioners and human rights defenders in Durban, South Africa; and an online workshop with six feminist activists from the internet. It also draws on the resolutions, dialogues, theories and principles from feminist manifestos, activist handbooks, training manuals, opinion pieces, journal articles and organisational reports published from the global South and international coalitions.

Locating this work in feminist prevention strategies against gender-based violence, it endeavours to ensure that the real lived experiences, needs and desires of real people remain at its centre. It acknowledges that women, non-binary, gender non-conforming and gender diverse people who are resisting patriarchal societal norms are especially targeted for their identity and activism, and so any response for prevention of our harm requires a politicised and gendered approach.

This framework outlines what a feminist working definition of self-defense could look like: one that disrupts dichotomies across space and identity, and acknowledges both the agency and capacity we have as women and trans persons to tap into our vital strengths, protect our boundaries, and create spaces for our own healing of past injuries experienced personally, communally and ancestrally. We also look at how feminist notions of self-defense are currently being coded into trainings and workshops by trainers, who aim to create the very conditions of possibility that we are fighting to see manifest in our lives, within spaces of trainings themselves.

A feminist approach to self-defense hacks the cis-hetero-colonial separation, exploitation and clinicalisation of our bodies and senses of self, as favoured territories for exercises of harm and control within our patriarchal contexts. It asks of us to interrogate the binaries we are expected to embody and calls for a more expansive understanding of the self as multi-dimensional, personal and collective.

Lastly, this paper reflects on the expansiveness of what it means to be alive: not as a state of being alone, but as an expression of our truths – fully possible in the world free from violence we pursue and endeavour to realise.

This research was supported in part by the All Women Count - Take Back the Tech! 2020 Small Grants.



Download pdf