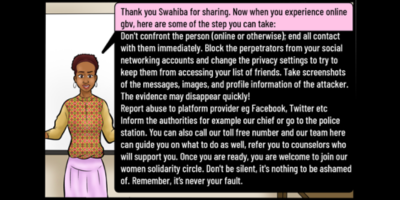 Image from Tunapanda Kibera comic strip.
 
The community of Kibera in Nairobi is one of the largest urban informal settlements and is estimated to have a population of over 1 million. This community, like many across the continent, faced higher rates of gender-based violence (GBV) due to COVID-19. At the heart of this crisis is women, especially those in lockdown with abusive partners. A lesser-spoken-about element of this violence facing women in the community is the abuse they face online. Tunapanda Kibera CBO is a non-profit social enterprise that runs intensive 3-month technology, design and business training courses in extreme low-income environments in East Africa such as Kibera.
The organisation believes that amplifying women's voices online arms women with the information they need to safely navigate the digital world and confront online gender-based violence (OGBV) head-on. Project leader and gender and digital security specialist Risper Akinyi said, 
The internet ecosystem is predominantly occupied by men in both consumption and creation. Participating in this AWC-TBTT Grant enabled us to create awareness and build the capacity of women from Kibera to acquire digital skills for safe internet use. Therefore advancing the digital representation of women from economically and socially disadvantaged communities. The most significant change experienced by the beneficiaries was the awareness that they too can become creators of digital content and not just consumers.
The project had three main objectives and the first one was to create awareness and to highlight gender-based violence against women from economically and socially disadvantaged communities. The women who participated are mostly those who work in the informal sector, as domestic workers, selling groceries or small business owners, all living in Kibera. 
The team had initially proposed training 20 women and this number increased as more women signed up for the sessions. This signals a greater need for this type of environment, one that fosters learning and conversation. A total number of 35 women from 3 different groups were trained, the first of which were women from the Feminist for Peace Rights and Justice Centre, an organisation that works at creating safe spaces for survivors of sexual violence, fights injustices and advocates for women's rights. Power women group, an organisation that trains women on the skills they need to be self-sufficient and breaking down the stigmas around HIV to create a community of support and teachers from informal schools in Kibera.   
The training was a total of 9 days with 3 days being allocated for each target group with the necessary COVID-19 social distancing guidelines applied. The sessions covered different topics because the knowledge and understanding of the digital space were different in each group, ranging from basic to intermediate. The feminist group of women who were between the ages of 20 and 35 were vocal and interactive in their sessions and they discussed the digital space in terms of campaigns, activism, advocacy and security. The power women group had a slightly older demographic and ranged between the ages of 28 and 60. Their training covered their online and marketing needs, which was centred around creating, updating, managing and protecting themselves on platforms such as Facebook and Whatsapp. The third group, the teachers, were between the ages of 20 and 45 and their main concern was that they were not as digitally savvy as their students and identified the need to bridge this gap, because they realised the importance of training children about the technological devices they use, around security and protecting oneself, especially because most children share their devices or access the internet in shared spaces (internet cafes). 
They were not only able to train these women on digital advocacy, digital safety and OGBV using different. Techniques such as lectures, discussions and participatory activities through group work. The training provided women with the information they needed to safely and confidently navigate the digital world. Through digital responsibility lessons, we emphasized taking practical steps to protect our privacy and safety online. By learning digital literacy skills including how to navigate social media, and evaluating content for accuracy, perspective, and motive, it helps women to acknowledge the benefits of digital communities and resources while guiding them to successfully explore potential pitfalls in their digital lives.
We were able to come up with a comprehensive toolkit that enabled us to deliver the content effectively. This is useful as a documentation process as well as for ongoing capacity building. Beyond awareness raising, the project enabled us to focus on attitude change i.e. engaging in the online space not only as a consumer but also as a creator online. There is a lot more locally available content online and more people are responding to end Online Gender-Based Violence.
The second objective of the project was to build a community of knowledge and expertise, for women to learn and share their experiences around OGBV. This was achieved through an audio documentary that Tunapanda Kibera CBO produced targeting Kibera and it featured experts and survivors of online gender-based violence (OGBV). The participants in the documentary shared their experiences. Risper emphasises the importance of this, 
Amplifying women's voices online aims to provide women with the information they need to safely and confidently navigate the digital world. The audio documentary highlights their experiences and journeys in the online space. Some of the women who did not have the courage to speak in front of crowds or on topical issues are now able to do so. There was a very positive reception on the discussion around online gender-based violence with both the women and experts. The women were vulnerable enough to share their experiences with one another and form solidarity circles for support.
Some of the key takeouts from the audio documentary by the survivors and experts is that women need to be cognizant of what they post on social media, when dating online they need to be selective about the information that they share when engaging in online dating, women are human beings with the agency to make their own decisions and that they need to be in the know of what policies and laws protect them. 
The third objective was to build a community of knowledge, expertise and to support online gender-based violence. Audio and visual content in the form of a podcast and a comic strip was created for this very purpose and the material was reflective of the local context and experience. The podcast featured feminist and OGBV training beneficiary Belinda Adhiambo, project leader Risper Akinyi, cybersecurity expert Winnie Akoko and gender and tech policy specialist Mwara Gichanga. It addressed the following: 
Debunking and demystifying some of the myths and misconception around online gender-based violence.
Defining what online gender-based violence is.
Discussing the different types of online gender-based violence and how it manifests.
The interconnectedness between online and offline gender-based violence.
The effects of online gender-based violence.
Digital safety for women.
How women should respond to online gender-based violence.
Who should take responsibility for the issue of online gender-based violence.
Platform responsibility.
The experience with online gender-based violence,
Reflections after digital literacy and online gender-based violence training.
The learnings from the podcast were that existing policies need to be strengthened to include online gender-based violence, there should be an increase in digital literacy and that there is a need to include men in the conversation to end online gender-based violence.  The comic strip showed local experiences of online gender-based violence in simple language and is meant to help empower women so that they can protect themselves with the relevant knowledge and also share it with their friends, family, colleagues and the rest of their communities. It will be shared with feminist centres, the Power Women centres and the informal schools of Kibera.  
Thinking back on what they achieved with this work, Risper had this to say,
My most exciting moment in the project was the positive effects of being part of supporting women in my community through giving voice to the women who have gone through online gender-based violence and also bringing more awareness to the issue through the generation of locally available content that is accessible and easy to understand and consume by anyone in the community.