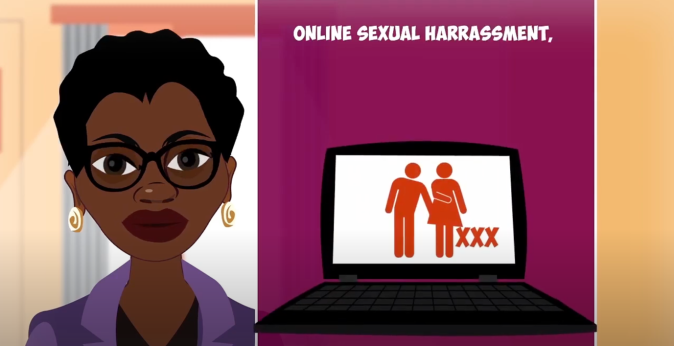 Author: Tshegofatso Senne

Image from WOUGNET Online Gender-Based Violence video.

This piece is a part of a series of blogs to share experiences of various projects that came out of the All Women Count-Take Back the Tech! (AWC–TBTT) grants. Love, Sex and Tech was one such project born out of the grant awarded to WOUGNET in 2020.

The Women of Uganda Network (WOUGNET) has been championing women's rights online for years. They review information and communication technologies (ICT) policies, engender those policies, offer trainings, share digital security information as well as produce policy briefs. Their work expands itself across smart media technology, also empowering young girls and women in being aware of online gender-based violence (OGBV) and how they are able to tackle it. Through The All Women Count-Take Back The Tech! project of the Women's Rights Programme at the Association for Progressive Communications this work was able to expand and reach further than expected.

Project leader Peace Oliver Amuge shared what an opportunity doing this work was:
"This project was perfectly in-line with WOUGNET's mission and vision because we anticipated to empower women and young girls to be at the forefront of tackling online gender-based violence. Our vision encompasses a society in which women are empowered through use of ICTs. Gender and ICT policy advocacy is one of the central programmes of our organisation. With the COVID-19 pandemic outbreak and increasing use of tech, there was an increasing rate of online gender-based violence and with this project, WOUGNET was able to provide the contextual and in depth understanding on online GBV, existing challenges, existing laws or policies, where to report the cases of online GBV, online safety tips and key recommendations for survivors of online gender-based violence."

Women Rights Online Media Campaigns in Uganda (WROMC) noted that over 2 million people in Uganda are aware of OGBV, how it happens and what action to take when they experience it. They found that the public is also self-confident in reporting these matters to police and relevant authorities because they have knowledge of laws. WROMC worked to expand on this, creating more awareness and popularising simple action responses to OGBV. They engaged over 50 advocates with various areas of expertise in promoting women's digital rights.

The three main points of the WROMC project included:
Using the Tech Back the Tech! role play game against online gender-based violence cards and other relevant resources to create feminist audios, animated videos and art for awareness creation and popularisation of simple actions for response to online GBV.
To build the capacity of women advocates and internet users to respond to and reduce online gender-based violence as well as providing a safe space for women to voice their online negative encounters.
To effectuate policy advocacy to compel law enforcement officers to respond to and address online gender-based violence in Uganda.
WOUGNET works with various forms of technology to extend their messages to audiences. They engaged women activists and advocates in a
Twitter chat
, hosted a
virtual conference
and participated in various events and workshops involving policy makers, digital rights advocates and ordinary young girls and women on the topic. Policy makers were also called upon to enact comprehensive cyber laws that protect and respect rights of women. The wider population were strongly encouraged to always act and report the matter immediately when faced with violence online. The WROMC project in Uganda enabled WOUGNET to be at the forefront in responding to and addressing raging cases of OGBV that were registered during the period of COVID-19 pandemic by reaching out to millions of people with information.
For this project they decided to expand their communication on radio because of COVID-19. Peace found that many of their usual audiences were offline due to losing work, both because the workplace had been their access point and because without income people could not cover internet costs. Their audiences also couldn't access internet cafes in various levels of lockdown, neither could they borrow any other people's phones.
In communities where WOUGNET's radio jingles aired, they received public feedback from people  who felt affirmed by hearing experiences they related to but had not realised were identified as OGBV. A total of 408 radio jingles were broadcast, reaching over 2 million people.  They were able to communicate about understanding the gendered perspective of OGBV, the impact it has on women's rights advocates especially in terms of privacy, right to access information and freedom of expression.
The team had this to share about community responses:
"There was zeal and enthusiasm shown by widely sharing, watching and direct appreciation of the quality and messages included in this resource by our networks. Our illustration book is a very informative and great advocacy resource that can be accessed and used by anyone anywhere in the world. We are proud to note that the project has led to the production of  the first-ever and widely accepted local content with global appeal in Uganda used to create awareness about OGBV. The local content was a great idea because it enabled us to reach the wider rural communities with key messages on what online gender-based violence entails and in the language that appeals to them."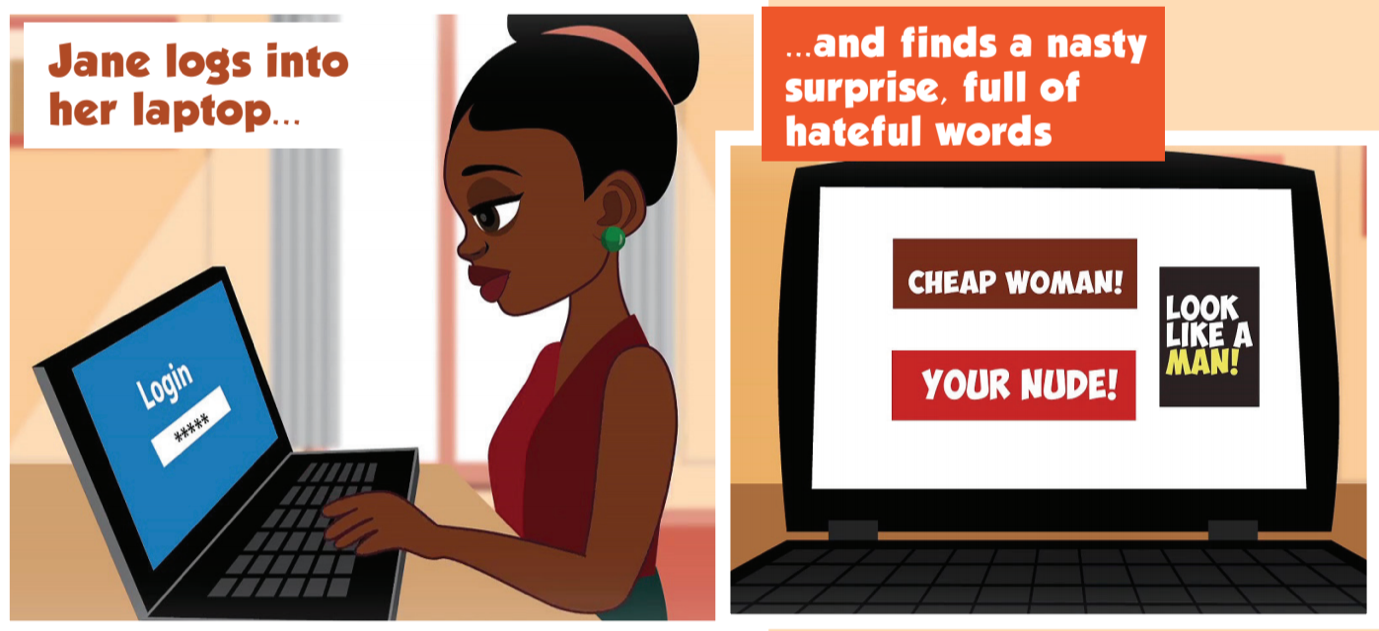 Image from WOUGNET Online GBV Illustration Book.
This project accumulated some impressive statistics!
Their feminist audio broadcast on Capital FM reached approximately 1.9 million Ugandans on a daily basis.
WOUGNET reached an average of 11,000 listeners with feminist messages in a dominant local language in Uganda on Radio Apac FM.
The social media campaign alone reached  358.5k people on Twitter, Facebook and Instagram. This is a great achievement because it shows the level of enthusiasm about the topic of OGBV and the need for immediate actions to combat it.
The artwork and animated video they created reached over 11 000 Twitter and Facebook users who engage the network daily.
The #StopOnlineGBVUG/ #AskForConsent conversation on Twitter with a variety of policy makers, human rights defenders and organisers reflected a reach of 17 million, with 335 000 interactions and received 239 mentions.
While the numbers are impressive, the impact of this project go even deeper than just this. They've already begun to connect to organisations who are committed to creating positive change towards safe cyber spaces for women, namely
Digital Human Rights Lab
,
Unwanted Witness
,
Her Empire(Not Your Body)
and Barefoot law among others.
This project has been one of WOUGNET's most successful projects over the years. A high drive to respond to and address OGBV by the Uganda police, the regulators like Uganda Communication Commission, women rights activists, digital security trainers, policy analyst, lawyers, feminist and women's organisations that WOUGNET engaged in Uganda is a very significant change that has occurred. We will continue to engage these organisations to ensure that this emerging form of  gender-based violence is incorporated into their programming  through their different initiatives which  will lead to the increase in levels of knowledge or awareness about the violence, improvement  in women's online experience and the capacity to bring about positive social, political changes in access to information among  women and girls in Uganda.
Peace shared about some of the work the team did:
"When we organised a webinar (live on Facebook and Youtube) in which a police representative, a research fellow, a civil society and legal representant shared perspectives people asked lots of questions to the police and legal representant. We think it's because police understand cybercrime different and they don't consider OGBV as a serious type of violence. We needed to raise more awareness with the police specifically."
One woman shared how much she appreciated the work done by WOUGNET and collaborators, emphasising how much of an eye-opener it's been. She noted that she had always found the internet unsafe as it was so male-dominated. She spoke on how the internet mirrors society, grooming boys and men to view women as inferior and abusing them online. The WOUGNET team strongly believes that this work has the capacity to change the lives, mindsets and attitudes of society.